Vanessa Begemann, M.Sc.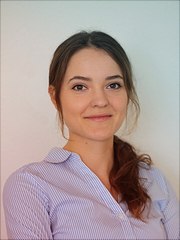 Photo: @ Vanessa
PhD student
Industrial/Organizational Psychology
Address
Universität Hamburg
Faculty of Psychology and Human Movement Science
Von-Melle-Park 5
20146 Hamburg
Office
Room: 3027b
Contact
Research interests
Workplace gossip and its social functions
University education
Since 12/2019
PhD student in psychology
10/2016-08/2019
Psychology (Master of Science), University of Hamburg
Title of master thesis: "Are female and male leaders who gossip evaluated differently? Exploring the effects of workplace gossip on leadership evaluations in a moderated mediation model"
10/2012-09/2015
Psychology (Bachelor of Science), University of Hamburg
Title of bachelor thesis: "Kognitive Mechanismen der Selbstregulation: Kann Konfliktentdeckung Selbstregulation von alltäglichem Essverhalten vorhersagen? [Cognitive mechanisms of self-regulation: Can conflict detection predict self-regulation of everyday eating behavior?]"
Publications
Currently under construction. More soon.
---