M.Sc. Wiebke Käckenmester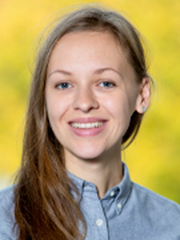 Photo: UHH, RRZ/MCC, Arvid Mentz
PhD student
Differential Psychology and Psychological Assessment
Address
Universität Hamburg
Faculty of Psychology and Human Movement Science
Differential Psychology and Psychological Assessment
Von-Melle-Park 5
20146 Hamburg
Office
VMP5
Room: 4007
Contact
Fax: +49 40 42838-5492
Academic education
2013 Master of Science in Psychology, University of Hamburg, main focus: Cognitive neuroscience, clinical psychology
2011 Bachelor of Science in Psychology; University of Hamburg
Conference contributions
Poster "Openness to Uncertainty: The Reward Value of Perceptual Information", ISSID Konferenz 2017, ausgezeichnet als bestes Poster
Publications
Kuper, N., Käckenmester, W., & Wacker, J. (under revision). Resting frontal EEG asymmetry and personality traits: A meta-analysis.
Käckenmester, W., Kroencke, L., & Wacker, J. (2018). Frontal asymmetry predicts the reward value of perceptual information. International Journal of Psychophysiology (134), 22-29.
Löwenkamp, C., Gärtner, W., Haus, I. D., Franz, V. H. (2015). Semantic grasping escapes Weber's law. Neuropsychologia (70), 235-45.
Research focus
My research interests are focused on the neurobiological basis of openness to experience. I use EEG and pharmacological manipulations to study associations between dopamine activity and openness-related cognitive abilities such as creative thinking.
---