Prof. Dr. Dipl.-Psych. Tania Lincoln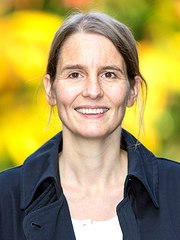 Foto: UHH, RRZ/MCC, Mentz
Leiterin des Arbeitsbereichs Klinische Psychologie und Psychotherapie
Anschrift
Universität Hamburg
Klinische Psychologie und Psychotherapie
Von-Melle-Park 5, #35, Raum 5035
20146 Hamburg
Sprechzeiten
Vereinbarung via klinische.psych"AT"uni-hamburg.de
Kontakt
Fax: +49 40 4273-13842
Research
The main aim of my research is to find out how and why psychotic symptoms arise and how they are maintained. This research involves identifying factors on an individual level and in the environment that may make a person vulnerable to developing psychosis. In my recent work I have laid a strong emphasis in looking at the dynamic interplay between people's vulnerability on the one hand and their emotional and cognitive information processing on the other. I use this knowledge to improve psychological interventions for people with psychotic disorders. Presently, I am investigating the efficacy of different interventions that are specifically tailored to hallucinations, delusions, negative symptoms and psychosis and trauma. I am also committed to improving psycho-social treatments for psychosis by developing clinical guidelines (DGPs-Leitlinie und S3-Leitlinie Schizophrenie), collaborating in a joint project to reduce coercion in psychiatry and to exploring possibilities for digital health care for psychosis.
Publications
Peer-reviewed publications
Books and book chapters
Curriculum Vitae
Current Positions
Since 2011 Full professor for Clinical Psychology and Psychotherapy, Institute of Psychology, Faculty of Psychology and Movement Sciences, Universität Hamburg, Germany
Since 2011 Director of the Psychological Outpatient Clinic (German: Hochschulambulanz) at Universität Hamburg
Since 2015 Director of PTA Hamburg (Training Institute for Clinical Psychotherapists with a focus on Behavior Therapy)
Previous Positions
2018-2020 Dean of the Faculty of Psychology and Movement Science
2005-2011 Senior Lecturer for Clinical Psychology in the Department for Clinical Psychology at the Philipps-Universität Marburg.
2003-2005 Clinical Psychologist in the Forensic Psychiatric Clinic in Haina (Hessen)
2000-2003 Therapist in the Christoph-Dornier-Foundation for Clinical Psychology, Marburg
Scientific Vita
2008 Venia legendi for Clinical Psychology and Psychotherapy at the Philipps-University Marburg
2003 Dr. rer. nat. (Ph.D. equivalent) Psychology; Philipps-University Marburg
1999 Diploma, Psychology; Philipps-University Marburg (Germany)
1991-1992 Internship in Social Projects in Manila, Philippines
1991 Abitur (A-Level-Equivalent) at Gymnasium Ohlstedt, Hamburg
Clinical Qualifications
2010 Certified Clinical Supervisor
2005 Approbation as Clinical Psychologist
Awards and Third Party Funding
2020 – 2023: DFG CL 757/2-1. "Mechanisms of change in psychotic disorders: Bridging the gap between symptom formation and interventions in daily life" (PI: Annika Clamor).
2019 – 2022: DFG Li 1298/9‑1." RELATE - A randomized controlled trial of a cognitive behavioural module for distressing auditory verbal hallucinations."
2018 – 2021: DFG CL 757/1-1. "Psychophysiological adaptivity and the formation of paranoid delusions" (PI: Annika Clamor).
2017 – 2021: "Stress and flexible learning: clinical mechanisms", project within the consortium "Flexible learning under stress: neurocognitive mechanisms and clinical implications" (LFF-FV38, Speaker: Lars Schwabe).
2017 – 2019: "IMProving Availability and Cost-effectiveness of mental Healthcare for Schizophrenia through mHealth (IMPACHS)". Funding by Eurostars (Horizon 2020) in cooperation with Monsenso (Denmark), T4U (Germany), University Clinic Region Zealand (Denmark).
2016 – 2019: DFG Li 1298/8‑1 and Me 4490/1-1. "Efficacy and mechanisms of change of an emotion-oriented version of Cognitive-behavioral Therapy for Psychosis (CBTp-E) in reducing delusions. A randomized-controlled treatment study."
2014 – 2016: DFG-Projekt He 5292/4-1. "Attention allocation during the processing of socially relevant information: Moderators of attentional biases and relevance for the experience of social anxiety" (PI: Sylvia Helbig-Lang).
2012 – 2016: DFG Li 1298/7-1 and Kr 3803/7-1. "The role of emotion regulation und its neural correlates for the development of psychotic symptoms."
2012 – 2013: "Amotivation in patients with psychosis and negative symptoms". Innovation Fund of Universität Hamburg.
2009: DGVT-Award for Behavior Therapy in the Psychosocial Implementation
2007: Beck Institute Scholarship for the Academic Year 2007/2008
Commissions of Trust
Editorial Board Member
Fortschritte der Psychotherapie (since 2019)
Cognitive Neuropsychiatry (since 2019)
Clinical Psychology in Europe - Section Editor (since 2019)
Zeitschrift für Psychologie (2019-2020 )
Cognitive Therapy and Research (since 2011)
Psychology and Psychotherapy: Theory, Research and Practice (since 2011)
Journal of Behavior and Experimental Psychiatry (since 2011)
Verhaltenstherapie (since 2011)
Associate Editor
Cognitive Therapy and Research (2011-2019)
Psychology and Psychotherapy: Theory, Research and Practice (2011-2015)

Ad-hoc-Reviewer    

Archives of General Psychiatry, Lancet Psychiatry, Schizophrenia Research, Schizophrenia Bulletin, Journal of Abnormal Psychology, Behaviour Research and Therapy, Clinical Psychological Science, Comprehensive Psychiatry, Journal of Clinical and Consulting Psychology, Journal of Affective Disorders, Clinical Psychology Review, European Archives of Psychiatry and Clinical Neuroscience, Behavior Therapy and Experimental Psychology, Cognitive Neuropsychiatry, European Psychiatry, Psychological Medicine, Canadian Journal of Psychiatry, Psychology and Psychotherapy: Theory, Research and Practice, Journal of Nervous and Mental Disease, Progress in Neuro-Psychopharmacology & Biological Psychiatry, Cognitive Behavior Therapy, Psychiatry Research, Clinical Schizophrenia and Related Psychoses, British Journal of Clinical Psychology, Psychopathology, Journal of Behavior Therapy and Experimental Psychiatry, Diagnostica, Neuropsychiatric Disease and Treatment, Clinical Psychology and Psychotherapy, Psychosis, Zeitschrift für Klinische Psychologie und Psychotherapie, Psychiatric Services, Cognitive Therapy and Research, Psychiatry Research, BMC Health Services Research, Biological Psychology, JAMA Psychiatry, PLOS ONE, Epidemiology and Psychiatric Sciences, Behavioural and Cognitive Psychotherapy and others
Supervision of PhD-Students
Sandra Opoka (2021). Die Relevanz von negativem Affekt und Emotionsregulationsfähigkeit bei Patienten mit psychotischen Störungen.
Lea Ludwig (2020). Die Rolle von Emotionsregulation in der Entstehung psychischer Störungen – Beiträge aus Fragebogenstudien, experimentellen Untersuchungen und Experience Sampling Studien.
Matthias Pillny (2020). Amotivation bei Patienten mit Psychosen. Ein Beitrag zur Diagnostik und Ursachenforschung.
Tobias Hillmann (2020). Die Rolle von Wahnnehmungsprozessen in der Entstehung und Aufrecht-erhaltung von Wahn (Eyetrackingstudien).
Caroline Wüsten (2020). Interkulturelle Ätiologieforschung am Beispiel der Schizophrenie: Psychotische Erfahrungen und familiäre Umweltfaktoren im Ländergruppenvergleich.
Eveline Söder (2020). Stressassoziierte Vulnerabilitätsfaktoren psychotischer Störungen.
Björn Schlier (2019). Psychotic symptoms in ambulatory assessments and longitudinal studies: development of state measures and evaluation of stress-related predictors.
Johanna Sundag (2019). Frühe maladaptive Schemata, Selbstwert und Verfolgungswahn – Studien zum Zusammenhang von Selbstkonzepten und Paranoia bei Patienten mit psychotischen Störungen.
Katarina Krkovic (2018). The interplay between vulnerability factors, stress reactivity and paranoid symptoms: Emotion regulation and traumatic experiences in focus.
Maike Engel (2017). Negativsymptomatik bei Schizophrenie: Diagnostik, emotional-motivationale Schwierigkeiten und soziale Relevanz.
Edo Jaya (2017). The Interplay between Social Factors and Psychotic Symptoms: Cognitive Vulnerability and Affective Pathway in Focus.
Leonie Ascone (2016). The Association between Social Rank, Attachment, Self-Compassion and Paranoia.
Marcel Riehle (2016). Interpersonal consequences of diminished emotional expressiveness in schizophrenia: An investigation of facial expressions within face-to-face interactions.
Annika Clamor (2016). Psychophysiologische Adaptivität, Stress und psychotische Symptome.
Esther Jung (2015). Behandlung psychotischer Störungen – Aspekte der Therapiebeziehung und Untersuchung unmedizierter Menschen mit psychotischen Störungen.
Maike Hartmann (2014). Einfluss von Stress- und Risikofaktoren auf paranoide Symptome bei Personen mit unterschiedlicher Vulnerabilität.
Eva Heibach (2014). Kognitive Verhaltenstherapie bei schizophrenen Psychosen: Zentrale Komponenten und ihre Relevanz für die Praxis.
Martin Wiesjahn (2014). Stigmatisierung und Medikamenten-Nonadhärenz bei Menschen mit psychotischen Störungen: Schwierigkeiten und Lösungsmöglichkeiten.
Marie-Luise Kesting (2013). Die Bedeutung des Selbstwertgefühls für die Entstehung und Aufrechterhaltung von Verfolgungswahn.
Silke Rusch (2012). Emotionsregulationsdefizite bei Sozialer Phobie.
Stefan Westermann (2011). Die Rolle emotionaler Prozesse bei der Entstehung von Wahn.
Stephanie Mehl (2010). Theory of the paranoid mind.
Michael Ziegler (2009). Die Bedeutung voreiliger Entscheidungen bei der Entstehung und Aufrechterhaltung wahnhafter Symptomatik.
International Activities
Keynotes:
2021: "Psychosen: Mechanismen verstehen und Psychotherapie gestalten". 38. Symposium der Fachgruppe Klinische Psychologie und Psychotherapie. May 12th-15th, 2021, Virtual Conference.
2021: "How to Translate Scientific Findings on Emotional and Cognitive Information Processing to Psychological Interventions for People with Psychotic Disorders". Congress of the Schizophrenia International Research Society. April 17th-21st, 2021, Virtual Conference.
2018: "How close have we come to understanding delusions?" 48th Annual Congress of the European Association for Cognitive-Behavioral Therapy. September 5th-8th, 2018, Sofia, Bulgaria.
Part of: